Introducing an 'Employee of the Year' Award
When you have a hard-working team that puts everything they have into the success of the business, it is always wise to recognize employees who provide excellent service. If an employer does not show appreciation to an outstanding employee, they are less likely to feel appreciated and might lose their competitive edge if they are just treated the same as all other employees.
Instating some kind of employee award program is one effective way to ensure that recognition is given where it is due. Being recognized by your employers for your hard work is extremely motivating and greatly improves employee morale across the board.
There are several different options when it comes to employee awards, but the most well-known is probably the 'Employee of the Year' award. This award is a form of employee recognition that acknowledges an outstanding contribution made to the company year-round. There are many benefits involved for the award recipient and their team, but it also benefits the employer by fostering a positive work culture.
We take a closer look at the positive impact of a successful employee recognition program in this article.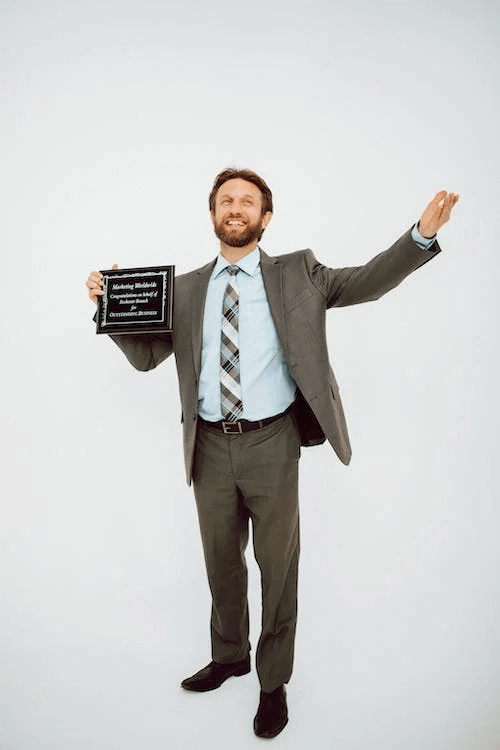 What Is an "Employee of the Year Award"?
Some companies will have an 'Employees of the Year' award where multiple employees are recognized for their contribution, whereas the singular 'Employee of the Year' award recognizes the work of only one employee. Generally, this employee recognition program is aimed at success, professional behavior, contribution to the company values, and exceptional work.
As far as employee award ideas go, this option is obviously an annual award. But there is no rule that says that this should be the only option. Employee of the Month awards are also a popular option with which to recognize employees. Again, a 'per month' award can be substituted for an award every quarter, every week, or every fortnight. The options are unlimited when it comes to making recognition accessible for the top talent in your business.
Ultimately though, having an awards program in your business is up to management or owners as no one is under obligation to provide an employee recognition award to employees. Should you decide to award employees one way or another, there are other considerations to make as well. For example, giving out awards too often may take the novelty out of the experience. Conversely, giving employee awards sporadically and not often enough can have very little impact on employee engagement.
Employee recognition awards also differ in terms of what employees are rewarded for. A general employee of the year award for overall contribution is one thing, but there are also more specific things to consider when rewarding employees.
Here are some examples of employee award ideas:
Best Team Player
Best Performance Award
Best Attendance
Positive Attitude Award
Most Dedicated Service
Most Improved Performer
Best Sales Figures
Most Work Anniversaries Award‍
Benefits of Employee Recognition Programs
Many companies will introduce an awards ceremony (usually as part of their end-of-year function), through which the employee of the year award, and any other company awards, are given in an official and fun capacity. In the end, such an award motivates employees and results in many positive outcomes for team members and the company as a whole.
Here are some examples of what the company gains from this kind of recognition for team members:
It Inspires the Workforce
Team members with ambition like to have a target to aim at. They want to win at something and come out above everyone else. An employee of the year award gives them something to compete for.
Furthermore, even when a team member does not receive an award themselves, they can find it inspiring to see other team members receive meaningful awards. The person who receives the award feels validated, while other employees are happy for their success but also feel like they want a share in it. This makes awards an excellent idea for creating healthy competition between team players.
It Boosts Employee Relationships
Awarding employees in this way can also have a positive impact on interpersonal relationships in the workplace. Where we do realize that corporate awards can pave the way to competition, the natural response has always been positive where people are more motivated to go the extra mile, put in extra effort, get the most sales, or anything else to get recognition, not only for themselves but for their team as well. Employees like to see each other receive recognition because it shows that when managers provide feedback, hard work does not go unnoticed.
It Protects Against Various Business Problems
High rates of employee satisfaction rely on many different factors, and although we cannot chalk it all up to something like an employee of the year award or a strong company culture, these are things that profoundly impact employee satisfaction. These things play a role in truancy, staff turnover, and employee burnout, which has an overall impact on employee morale.
It Improves the Company Culture
We all know how important company culture is to a business' overall success. Top performers are attracted to a strong office culture and it helps employees remain with the business. One way that you can work on creating this culture is through employee awards for their hard work.
It Improves the Employee Experience
An awards program is a clear indication of appreciation from management. When a team does not receive recognition for their hard work from their employer it is very damaging to employee engagement. Without a sense of appreciation, most employees will feel little loyalty to a business.
However, when you are acknowledged and recognized through something like an employee of the year award for the outstanding performance you feel validated in your work. This is simply because employee appreciation is deeply satisfying.
Conclusion
Employee recognition programs like the employee of the year award might seem trivial. And some leaders will likely not feel as though employees are all that concerned with such things.
However, some of the insights highlighted in this article might have made some readers feel differently about the subject. The reality is that these awards are undeniably valuable to the company.
There are so many benefits to these awards, both to employees and to the organization. So, take some time in the process of developing award criteria and implementing an excellent awards procedure for your workforce to keep them motivated.